As the second week of Class S action ends, we see Mineski-Dota claim solo first place as of the moment, due to them sweeping Arcanys in their series, while Execration lost theirs, 2-1, against CnS.
Click n' Search 2-1 Execration
Click n' Search managed to overcome an early 0-1 deficit in their series against defending champions Execration, as they flaunted their mastery of the Tiny-Wisp combo.
Game 1 - Execration managed to take the first game, however, as they managed to reverse CnS' early first blood in their forest into a 4-1 exchange, giving them a lead that they would never lose.
Game 2 - CnS came out all guns firing in the second game, as Mison's Disruptor completely shut down Ewe's Phoenix, allowing Yamaguchi's Queen of Pain to assist Polo's Tiny in snowballing out of control. Not even Boombacs' farmed Anti-Mage could stand in their way.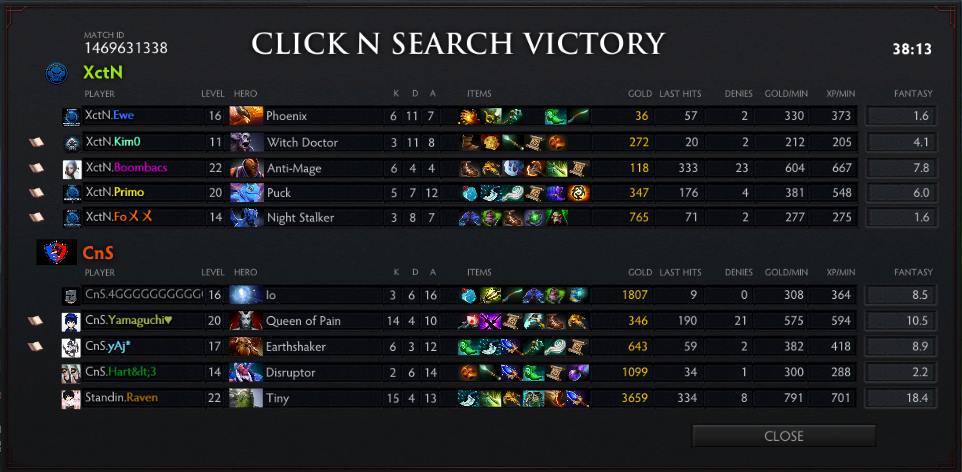 Game 3 - Execration raced ahead to an early yet significant lead against CnS. However, instead of fighting Kim0's deathball head on, the boys from Parañaque decided to spread the map thin, patiently split-pushing with Wisp+1 until Execration finally crumbled in the late game, allowing CnS to comlpete the comeback.
GIGABYTE.Mineski 2-0 Arcanys
Game 1 - Arcanys facerushed their way to a 14,000 gold and experience advantage on the back of their Night Stalker + Bounty Hunter 24/7 ganks. However, the Cebuanos could not push high ground properly, as Kuku, MVP of the game for Mineski-Dota, split pushed his heart out, delaying the Arcanys push long enough for Julz and Vash to get their items out just in time for the clash that allowed them to finally take control of the game.
Game 2 - In this game, Mineski-Dota showed how important proper gold distribution throughout the entire team actually is, as they managed to overcome the fact that Arcanys' two cores occupied the top two spots in net worth rankings, while they themselves mostly held spots 3-6.