Two days, eleven teams, and only one victor: November 2 and 3 were momentous days for Dragon Nest SEA, as PHMI.V6 took charge and won the Dragon Nest World Championship Philippine Qualifiers. They are now one step closer to winning the grand finals, scheduled on December 12 - 16 at Shanghai, with a prize pool of USD $30,000 at stake.
The three-man lineup of Meeko (Acrobat), Oyie (Mercenary), and Rysher (Priest) started day one against PHJigsaw. PHMI.V6 took control of the first KoF match -- Rysher's spot-on DPS combo, relic placement, and timely use of Holy Judgment were enough to beat PHJigsaw. Game two showed PHMI.V6's experience in group PVP, executing their Spirit Boost strategy almost flawlessly. They pinned PHJigsaw into the small alleyway in the Lost Temple, where their special skills had the chance to land the most number of hits. PHJigsaw almost brought Oyie down in the first round, but Rysher's defensive Bind Relic gave him a window to use his Cyclone Axe and prompted the team's counterattack. PHMI.V6 didn't let go of momentum and beat PHJigsaw to move into the second round.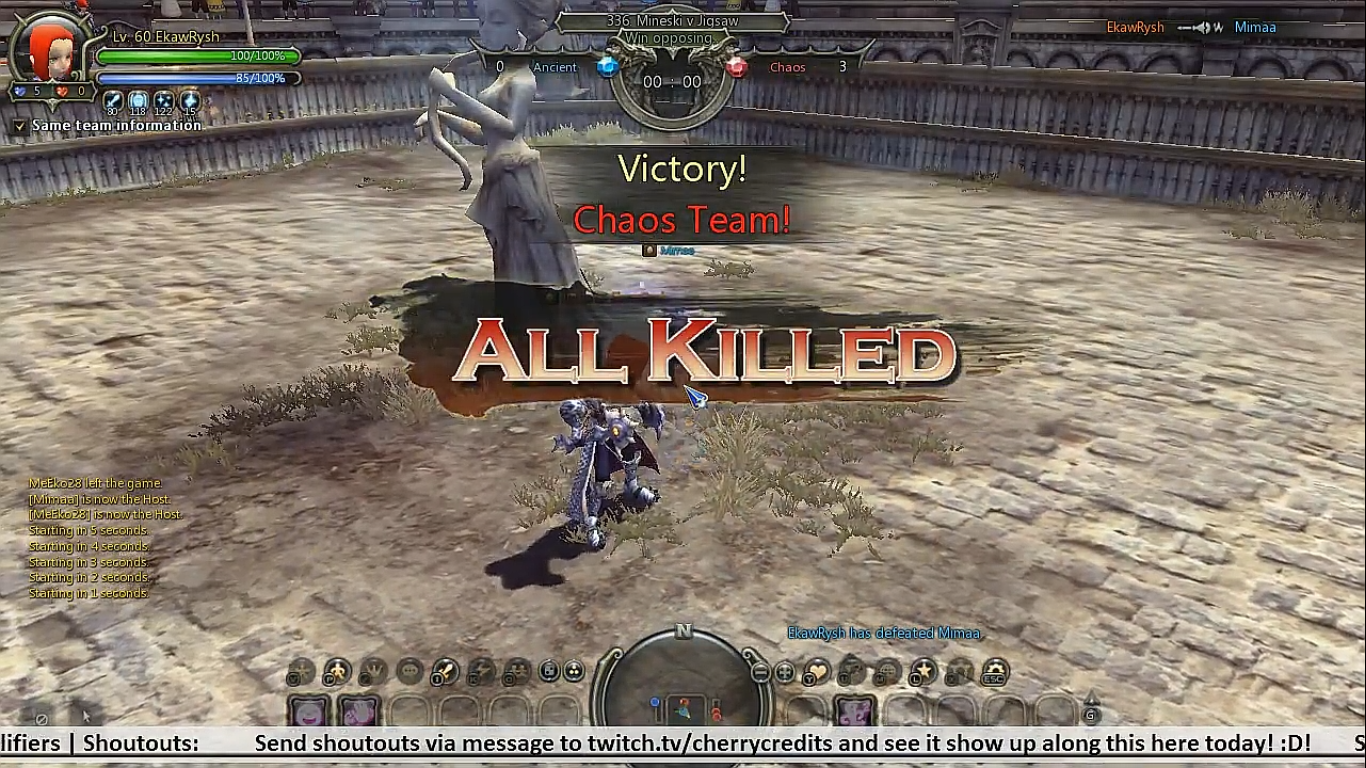 All killed! Rysher beating PHJigsaw in his lonesome.
Waiting for PHMI.V6 in the next round was none other than their rival in the GMPGL Season V: Neo Exodia, which went by the team name PHneoXodia. Meeko stepped up to the plate this time and went against PHneoXodia's Priest. Despite the Priest's sturdy nature and barrage of relics, Meeko's Acrobat combos were successful in cancelling the opponent's Chain Lightning. The Priest has done a great job in stopping Meeko's assault when it mattered. But when the famed Acrobat got his momentum, PHneoXodia didn't have the chance to retaliate.
Upon winning the first round, PHneoXodia, put their Bow Master into play, who has done a great job in keeping his distance against the Acrobat and bringing his opponent's health down in the process. Towards the end of the round, however, he made a mistake of using the Tracking Arrow into Stunning Shot, which is currently bugged. The round was waived because of this and was restarted.

The stream went down afterwards, the reason being Kazu's place experiencing a thunderstorm and causing a blackout. Nevertheless, PHMI.V6 won both the KoF and the group stage to advance in the third round.
The third round was scheduled for day two, with PHMI.V6 going up against PHcare that won against PHJ2Rcrew in the first day. PHcare didn't have all its members present, granting PHMI.V6 a walkover win and an easy trip to the semifinals.

PHMI.V6's seemingly easy run towards the finals will not be for long though. Waiting for them in the semifinals was a familiar face in the form of PHwithLove, led by Veneratio VI's Inquisitor Jien. Rysher made a repeat performance in their game against PHJigsaw by singlehandedly defeating PHwithLove in first KoF. They then didn't look back and won the rounds stage with a score of 3-2. This win meant that PHMI.V6 is now in the finals and is one match away from going into China.
As the nine other teams fell, PHMI.V6 and PHwithLove were back to face each other. This time, however, the winner takes all. PHwithLove beat PHsecret in the losers' bracket to earn their spot in the grand finals while PHMI.V6 was comfortably waiting for them. PHwithLove is no team to take lightly though, as Kazu pointed out that Jien's Priest gave the team a strong fighting chance. Still PHMI.V6 had a clear advantage, mainly because of their experience.
The first match of the KoF was a showdown between Jien and Rysher. The two were evenly matched, and none of them went below the 60% HP mark. The round ended with a draw, as both Priests ended the fight with full health. The second match was once again a class showdown, this time between two mercenaries: Oyie and CatOfDoom. Oyie got an early advantage by landing his Punishing Swing first and then initiating his combo that brought CatOfDoom's HP down to 65%. CatOfDoom kept his aggression nonetheless, forcing Oyie to make mistakes. What seemed to be a series of comebacks for CatOfDoom always gets trifled however, as he could not connect his combos. Oyie added salt to the wound by hitting his Havoc Howl repeatedly, thereby weakening CatOfDoom's attacks. Oyie pressed on to beat PHwithLove's Force User, TONDEKIMAN. Despite being low on HP, Oyie had a window to hit his Circle Swing into a Stomp, and then landed his Cyclone Axe afterwards. TONDEKIMAN had already used his Aerial Evasion and Blink and had no escape mechanism. Oyie followed with a Whirlwind and a wall combo, putting TONDEKIMAN out of commission.
The group stage in the Lost Temple was more of mind games than anything else, as PHwithLove tried to eliminate PHMI.V6's space to launch their combos. PHMI.V6 responded in kind, baiting out the Bind Relic and Black Hole in the first round. Once Meeko's Spirit Boost was off cooldown, he immediately went to isolate Jien. TONDEKIMAN was quick on his feet though, landing a three-man Time Stop that was followed by CatOfDoom's Cyclone Axe. TONDEKIMAN moved too far away from his team mates though, which gave Meeko an opportunity to bring his HP down to 7%. Both teams grouped up for one final clash before the round ended, wherein a defensive Bind Relic from Rysher caught TONDEKIMAN effectively felling him. CatOfDoom was picked off next. Jien was the only player left for PHwithLove at the end of the round; PHMI.V6 had all of its players alive.
PHMI.V6 pressed PHwithLove into the respawn point in round two and tried to isolate TONDEKIMAN from the formation. Though they were not successful in doing so, they still forced PHwithLove to use their special skills earlier than them. However, all players were alive as the clock hit the 30 second mark. PHMI.V6 was leading in HP at this point, largely because of the damage dealt to CatOfDoom. PHwithLove forced one last fight. TONDEKIMAN was caught by the Bind Relic as he was casting his Time Stop and got hit by Oyie's Whirlwind, causing his HP to drop from 100% to 32%. Because of this, PHMI.V6 took round two and led 2-0.
PHwithLove was not out however, as they managed to win the third round. Jien did a good job of recovering from PHMI.V6's focus fire and healing up when his HP hit as low as 4%. Rysher was isolated this time, and a Time Stop from TONDEKIMAN allowed CatofDoom to finish him off; Meeko was quickly downed afterwards, and they then proceeded to finish the job on Oyie.
As PHwithLove was showing signs of coming back into the game, PHMI.V6 stuck to their plan of isolating the Force User, which they have done effectively in the bridge. PHwithLove managed to back away though and recover some of their lost health. PHMI.V6 capitalized with their better positioning and locked CatOfDoom outside of the respawn point to gain a 3-2 advantage. PHMI.V6's only enemy now was the clock as they were in full with less than one minute left in the round. PHwithLove kept on forcing fights though and almost tied the game when they isolated Oyie. The HP lead of PHMI.V6 was too far, however, and PHwithLove called GG as time winded down.
PHMI.V6 holding on to their lead over PHwithLove.
We congratulate PHMI.V6 for a job well done, but this is just the beginning. We wish our representatives luck in China! May you bring home the bacon!