Art by Suke
(suke84.deviantart.com)
Pinoy Gaming Festival is getting nearer and nearer by the minute. On October 27-28 the much awaited and the most competitive DOTA League in the country will have its Grand Finals at the SMX Convention. Gigabyte Mineski Progaming League and the collegiate league of eSports in the Philippines, National Cyber Collegiate League, will field the best Dota teams in the country into battle for the prize money and the title of national champion.
In line with this, we have special announcement especially for the teams that will be playing.
GMPGL and NCCL will use the 6.75b version
Being the latest official map, we have decided that 6.75b is the most fitting map to use for Pinoy Gaming Festival. This will add more challenges and will open new strategies as new heroes are now available in CM modes, skills are modified and bugs were fixed.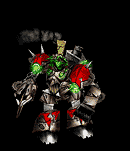 Skywrath Mage and Goblin Shredder
added to Captain's Mode as of version 6.75
To learn more about the changes on the version, you can read the changelog here.
Download the latest Dota map version:
getdota.com
Find out more about
Pinoy Gaming Festival:
NCCL Season 2 Finals on PGF 2012
SMX & 8 Game Titles confirmed for PGF
How to get your PGF Tickets