After Conference 1 came to a close, the pressure of having an explosive close to Conference 2 is now in the hands of the schools that belong to it.
Ready your food and drinks on September 23, as The National Cyber Collegiate League opens its registration for the fourth and final leg!
UPDATE: MI DASMARIÑAS OPENS NCCL SLOT
Mineski Infinity Opening Tournament this Sunday at Dasmariñas will hold an NCCL S2 Grand Finals qualifier for the following schools:
Brookfield College in Cavite
Colegio de Salitran
De La Salle University – Dasmariñas
De La Salle Health Sciences Institute
Emilio Aguinaldo College - Cavite
Far Eastern Polytechnic College
Far Eastern University - Cavite
Imus Computer College (ICC) - Dasmariñas
Lyceum of the Philippines University - Cavite
National College of Science and Technology
Olivarez College - Tagaytay
Oxfordian Colleges
Philippine Christian University - Dasmariñas
Presbyterian Theological Seminary
Saint Dominic College of Asia
St. Francis of Assisi College Dasmariñas
Southern Luzon College
St. Jude College - Dasmariñas
Technological University of the Philippines - Cavite

NCCL Season 2 Conference II Final Leg
Official Dota map version: 6.74c
When: Sunday, September 23 - Call time 8:00AM to 10:00AM, reserve online below
Registration Fee: FREE. PC time only (free PC time in MI Dasmariñas)
Where:
Important Rules:
Each team must consist of members from the same school (no mixed teams).
Members must be enrolled to a semester of their respective school within June 2012 to October 2012.
Upon registration, participants MUST present proof of enrollment which can betwo of the following:

Validated School ID

Official Registration Form

School Certificate (original)

Participants are then required to prove their identity before accepting theirregistration through confirmation of credentials (loggin in 2-5 personalaccounts e.g. university module, social networking site, etc.)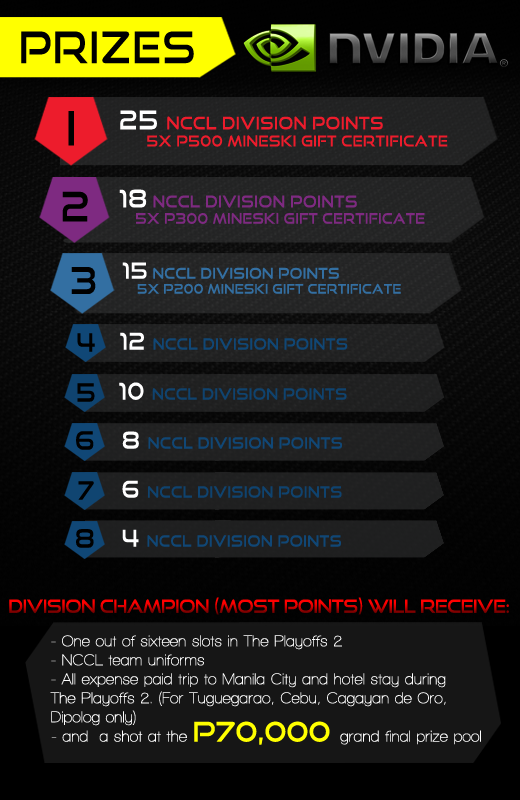 Walk-in registration:
Walk-in registration will be available during the event day.
Go to Mineski Infinity and ask for the registration forms from the marshal's desk.
Fill-up and sign the forms then submit.
Get your clan tags and your respective PC assignments.
Wait for the event to start and listen to the opening remarks.
NOTE: PAYMENTS ARE NON-REFUNDABLE
Online registration:
Online Registration only guarantees your participation if you come to the event within the hour following the call time.

Online reservations will be open starting today until the event day.
Use the Sample Format Below:
Team name: Mineski
Contact number: 0927-123-MSKI
Contact e-mail:[email protected]
Division: Morayta A
School: Far Eastern University
Full Names, Year, Course:
1. Tami Buchanannini, 4th Year, BS IT
2. Bobbie Malonie, 4th Year, BS IT
3. Brandi Babidee, 4th Year, BS IT
4. Marianne Busyan, 4th Year, BS IT
5. Lulu Baktuyu, 4th Year, BS IT
6. Izzi Krissy, 4th Year, BS IT (optional)
Which of the teams will have the chance to grab one of the three remaining slots for the most explosive NCCL finals yet? You know, the one that's going to happen at Pinoy Gaming Festival next month in SMX Hall 3?
Are they willing to go all-out for a once-in-a-lifetime chance of representing their school pride and colors in the most prestigious, and only Inter-Collegiate eSports tournament in the Philippines?
Which team will have a slice of prestige and glory?
Who will be on top?
This is The National Cyber Collegiate League.
POST YOUR REGISTRATION ENTRY AS A COMMENT BELOW!
AFTER MAKING A POST, SEE YOU AT THE EVENT!
GL HF