The ber months are here, and as October draws ever nearer, the shadow that looms over defenders of demacia all over the world continues to grow. And this shadow is cast by none other than the largest League of Legends event of the year, the LOL Season Two World Championships, which is set to take place at Los Anegeles, California, starting this 13th of October.
But before teams can compete for the 3 Million USD prizepool, they must first qualify through a string of qualifiers all over the world. With the regional qualifiers in China, North America and Europe already finished, the rest of the world is expected to, of course, not be left behind... especially not South-East Asia... especially not the Philippines.
This coming first of September, 16 Filipino teams are to compete in SM Megamall, in a single-elimination bracket in the League of Legends Rampage 2012. The top three finishers are to join five other teams and proceed to the LOL Season Two National Qualifiers, set to take place also on that day.
Lastly, the champion of the National Qualifiers will represent the country in the SEA Regional Finals at Da Nang, Vietnam.
Teams
The 16 top-priority competing teams are the following:
1 Bearwolves
2 ML.OP
3 ExP
4 Tagya Boys
5 B2ST
6 Sasha Greyhawks
7 Nobody
8 Nobody 2
9 Team DK
10 IOU
11 Team Isabela
12 NightShift
13 Qte
14 Pamintang Reborn
15 MILD
16 JUSTICE
While the following are the back-up teams:
17 TnL
18 Kindred
19 43RDxCROSS
20 Rak U
21 FG ( Fairview Gaming )
22 GodS II
23 GodS 1
24 ML.Beasts
25 Eclipse Pro
26 Team Monstar
27 Moves Like
28 Angora Goat Riders
29 "BG!"
30 TEAM Solo Gaming
Other events set to take place at the LOL Rampage 2012 Event are the Cosplay Clash Event, an ARAM Tournament, and an ARAM showmatch with the one and only, The Manila Aguilas.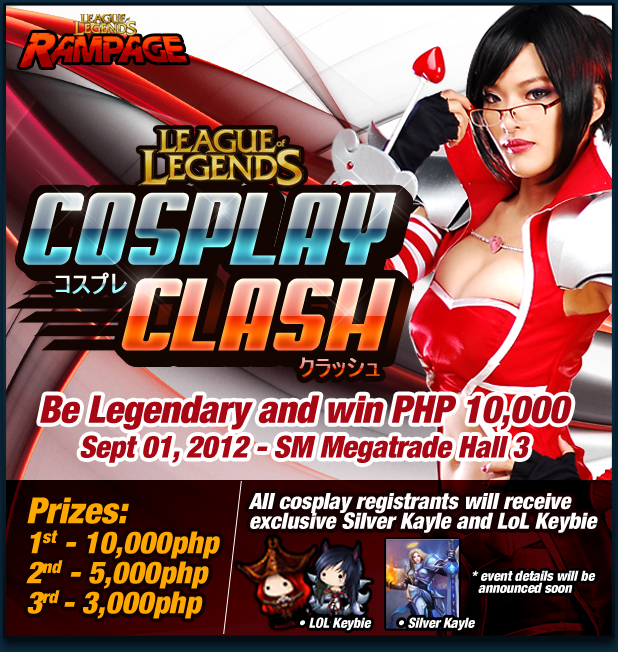 Cosplay event with various other activities this Saturday at SM Megamall!
All atendees are also set to receive free Frostblade Irelia Skins, and even some other in-game items.
Source - Garena Philippines