NCCL Season 2 Conference II Leg 2
Official Dota map version: 6.74c
Where:
Click to view map:
Important Rules:
Each team must consist of members from the same school (no mixed teams).
Members must be enrolled to a semester of their respective school within June 2012 to October 2012.
Upon registration, participants MUST present proof of enrollment which can betwo of the following:

Validated School ID

Official Registration Form

School Certificate (original)

Participants are then required to prove their identity before accepting theirregistration through confirmation of credentials (loggin in 2-5 personalaccounts e.g. university module, social networking site, etc.)

Eligible/Allowed schools to compete this Sunday:
DIPOLOG

Andres Bonifacio College
Dipolog City Institute of Technology
Dipolog School of Fishery
Dipolog Medical Center
Jose Rizal Memorial State University
Josefina H. Cerilles State College
Northwestern Mindanao State College of Science and Technology
Saint Vincent's College

KATIPUNAN B

Ateneo De Manila University-Quezon City
New Era University
Philippine School of Business and Administration - Quezon City
Polytechnic University of the Philippines-Commonwealth
Quezon City Polytechnic University
Trinity University of Asia

MORAYTA B

Arellano University
iCollege of the Philippines
Mary Chiles College
Mary Johnston College
Metropolitan Hospital College of Nursing
Perpetual Help College of Manila
Philippine Cultural College
Philippine Maritime Institute-Manila
University of Manila
University of Santo Tomas
University of the East

LEGARDA B

Adamson University
Colegio de San Juan de Letran
Concordia College
Emilio Aguinaldo College
Lyceum of the Philippines University
Mapua Institute of Technology
Philippine Normal University
Technological University of the Philippines

STA. MESA

Central Colleges of the Philippines
De Ocampo Memorial College
Manila Theological College
Philsin College Foundation
Polytechnic University of the Philippines

SHAW

Don Bosco Technical College
Eulogio "Amang" Rodriguez Institute of Science and Technology
Jose Rizal University
Rizal Technological University

TUGUEGARAO

Credo Domine College
Cagayan State University
Cagayan Technical Institute School of Automotive
Central Colleges of the North
City Technological Institute
Five Star Technical Institute
Florencio L. Vargas College
Global Reformed University
Maila Rosario College
Metropolitan Institute of Technology
International School of Asia and the Pacific
Philippine Law Enforcement College
Saint Paul University Philippines
University of Cagayan Valley
University of Saint Louis Tuguegarao
When: Sunday, August 12,2012 - Call time 8:00AM to 10:00AM, reserve online below
Registration Fee: FREE. PC time only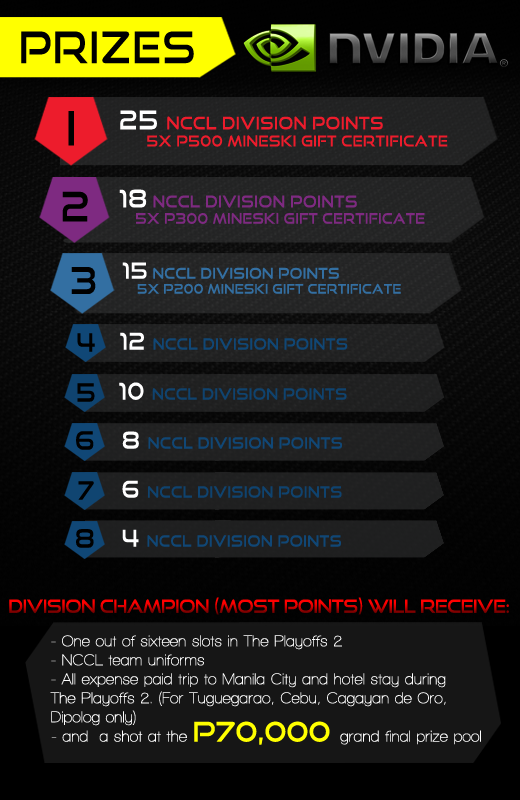 Walk-in registration:
Walk-in registration will be available during the event day.
Go to Mineski Infinity and ask for the registration forms from the marshal's desk.
Fill-up and sign the forms then submit.
Get your clan tags and your respective PC assignments.
Wait for the event to start and listen to the opening remarks.
NOTE: PAYMENTS ARE NON-REFUNDABLE
Online registration:
Online Registration only guarantees your participation if you come to the event within the hour following the call time.

Online reservations will be open starting today until the event day.
Use the Sample Format Below:
Team name: Mineski
Contact number: 0927-123-MSKI
Contact e-mail: [email protected]
Division: Morayta A
School: Far Eastern University
Full Names, Year, Course:
1. Tami Buchanannini, 4th Year, BS IT
2. Bobbie Malonie, 4th Year, BS IT
3. Brandi Babidee, 4th Year, BS IT
4. Marianne Busyan, 4th Year, BS IT
5. Lulu Baktuyu, 4th Year, BS IT
6. Izzi Krissy, 4th Year, BS IT (optional)