Rules are important. It's a must to maintain an upstanding environment or anything we do. Even in sports. Ever wonder what would happen if there are no rules Basketball? It'll be no blood, no Foul... or worse, there's blood, and still no foul. Or in Baseball, where the pitcher could just throw the ball straight to the face of the batter. That's the reason why organizations are made to regulate sports. E-Sports is no different. And soon the Philippines will be welcoming the organization that will handle the growth and standardization of Esports in the country, PeSO or Philippine eSports Organization.
PeSO or Philippine eSports Organization will be part of IeSf or International eSports Federation, the organization that ensures that eSports will be recognized as any other sports worldwide, made to ensure the growth and the setting of technical standards for eSports. IeSF aims to accredit eSports as any other sports worldwide. They hold human resource training for players, referees and other personnel for eSports tournaments and events and host a world eSports championship for this goal.
According to statistics, our country has the biggest number of gamers in the world with 25% of the 29% penetration rate of the Internet users stated that online gaming was their primary reason for access of the internet. With these data in hand, Mr.Brian Lim, sports commissioner of Cebu City Sports Commission, spearheaded the founding of PeSO as he identified eSports as one of the sports to be nurtured in Cebu.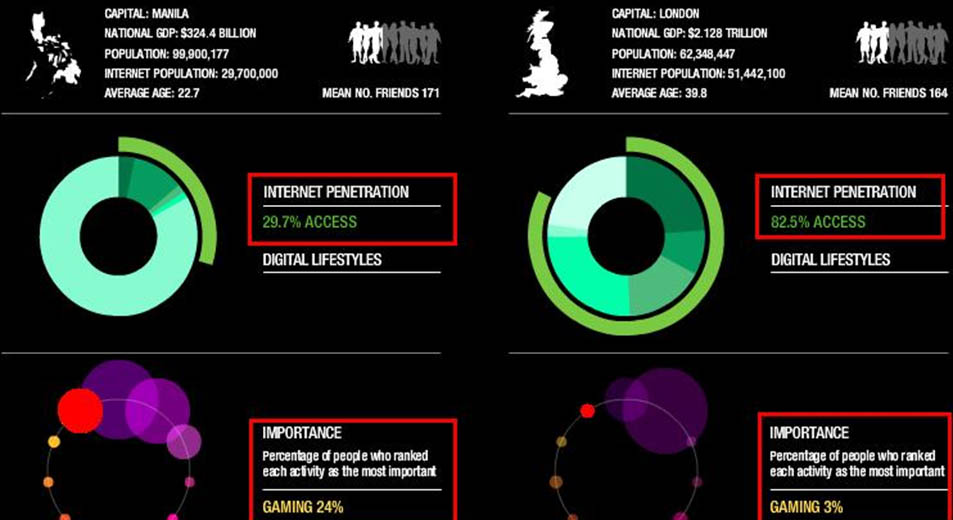 Statistics show an impressive ratio of gamers in Philippines.
Last Oct 2011, IeSf invited Mr.Lim to Andong Korea for a conference that sparked the formation of PeSO.
PeSO wants the Philippines to excel in eSports internationally by 2015. Where Filipinos are not limited by height, weight or size but rather the competitiveness of our mind and the Filipino fighting Spirit. With these in mind, PeSO wants eSports to really be a part of our culture.

IeSf invited Mr.Lim (lower row, second from right) to Andong Korea for a conference.

Last July 6, 2012 IeSF held the IeSF Asian Conference at Cebu where 17 representatives from 15 coutnries including Mr. Lim and Mr. Marvis Sanchez as representatives for the Phililppines. Mr. Brian Lim laid in front of IeSF and other representatives the plans of PeSO for Philippine ESports.
Courses of actions were planned already to achieve this goal.
PESO's plans of actions
Create a body of several members representing various esports teams and groups in the Philippines.
Conduct elections for unifying body.
Coordinate with IESF for standardization of Esports in the Philippines
Create database of possible partners/sponsors.
Create database of players for Esports in the Philippines.
Create a self supporting business model to be able to conduct leagues and esports tournaments.
With these actions PeSO wants eSports to earn a slot in the list of OFFICIAL LIST OF ACCREDITED SPORTS on the Philippine Olympic Committee.
But PeSO won't be only focusing on local tournaments alone. On October 4-8, PeSO will be accredited to be part of the IeSF.

IeSF's Vision & Goal. More at http://ie-sf.org/eng/company/vision.asp
Now with these organizations coming into the Philippines, we can say that eSports in the country really has a great opportunity to grow. We're one step closer to every gamer's dream, with Philippines nearly being accredited. IeSF is one country closer on getting their aim: MAKE THE ONE ESPORTS WORLD.