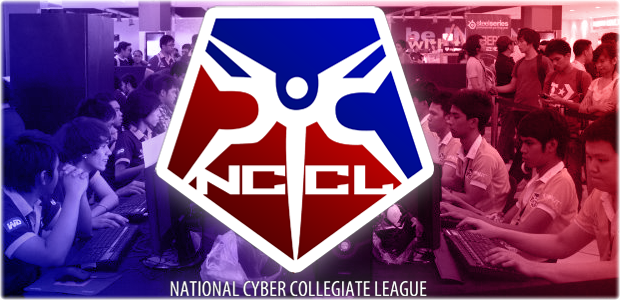 Basketball, Volleyball, Cheering. Usually these are the things that come to mind when you mention inter-school competition. But that wont be the only things for long as the National Cyber Collegiate League is back and bigger than ever! Boasting an insane amount of qualifying schools this season with promise of an even BIGGER list down the line, truly, eSports is stepping up in the Philippines!
So, what are you waiting for? Get those keyboards and mice rolling as we enter the new age of competition!

NCCL Season 2 Conference I Leg 1
Official Dota map version: 6.74c
Where:
Click to view map:

Eligible/Allowed schools to compete this Sunday:
CUBAO

Asian College of Science and Technology - Cubao
Metro Business College - Quezon
National College of Business and Arts - Cubao
Samson College of Science and Technology - Quezon
System Plus Computer College - Quezon
Tech Pacific College
Technological Institute of The Philippines - Quezon
World Citi Colleges - Quezon

KATIPUNAN A

Diliman Computer Technology Institute
FEU-FERN College
Informatics College-Quezon City
Our Lord's Grace Montessori School & Colleges
University of the Philippines-Diliman

MORAYTA A

Chiang Kai Shek College
Chinese General Hospital College of Nursing and Liberal Arts
Far Eastern University
FEATI University
Interface Computer College
National University
Philippine School of Business Administration
San Sebastian College
Manila Business College
Manila Law College
Philippine College of Criminology
Philippine Merchant Marine School-Manila

LEGARDA A

Centro Escolar University
College of Holy Spirit of Manila
Guzman College of Science and Technology
Manuel L. Quezon University
National Teachers College
Philippine College of Health Sciences
San Beda College
Technological Institute of the Philippines - Manila

CEBU

Asian College of Technology
Cebu Doctors' University
Cebu Eastern College
Cebu Institute of Techonology - University
Don Bosco Technology Center
Salazar Institute of Technology
Southwestern University
University of Cebu
University of San Carlos
University of San Jose-Recoletos
University of Southern Philippines Foundation
University of the Visayas

TAFT

Asian Social Institute
De La Salle University
De La Salle - College of Saint Benilde
Jesus Reigns Christian College Foundation
Philippine Christian University
Philippine Women's University
Saint Paul University
University of the Philippines Manila

LAS PINAS

Bernardo College
Colegio de Santa Monica - Manila
Las Piñas College
PMMS Colleges
Saint Francis of Assisi College
San Beda Alabang
Southville International School and Colleges
University of Perpetual Help System Dalta

CDO

Aguilar College Foundation
Bukidnon State University
Cagayan de Oro College – PHINMA Education Network
Capitol University
Central Mindanao University
Golden Heritage Polytechnic College
Liceo de Cagayan University
Lourdes College
Mindanao Institute of Career Management
Mindanao State University
Mindanao University of Science and Technology
Misamis Oriental State College of Agriculture and Technology
Oro Institute of Technology
Pilgrim Christian College
Xavier University - Ateneo de Cagayan
When: Sunday, July 1,2012 - Call time 8:00AM to 10:00AM, reserve online below
Registration Fee: FREE. PC time only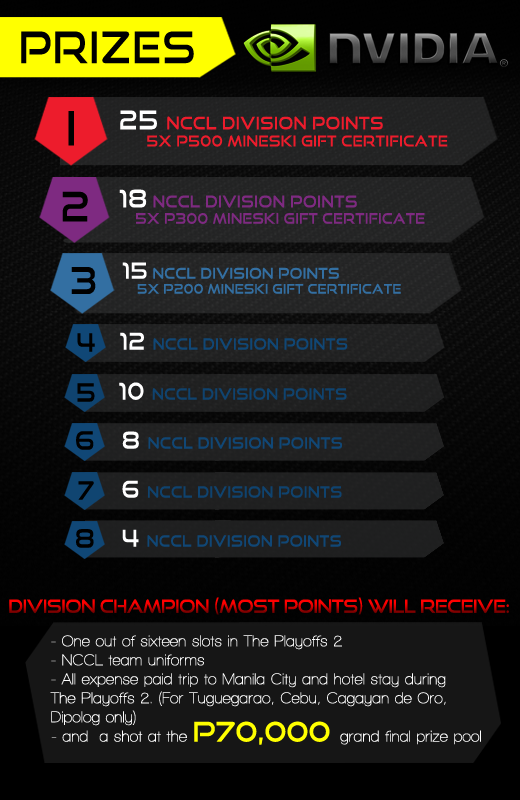 Walk-in registration:
Walk-in registration will be available during the event day.
Go to Mineski Infinity and ask for the registration forms from the marshal's desk.
Fill-up and sign the forms then submit.
Get your clan tags and your respective PC assignments.
Wait for the event to start and listen to the opening remarks.
NOTE: PAYMENTS ARE NON-REFUNDABLE
Online registration:
Online Registration only guarantees your participation if you come to the event within the hour following the call time.

Online reservations will be open starting today until the event day.
Use the Sample Format Below:
Team name: Mineski
Contact number: 0927-123-MSKI
Contact e-mail: [email protected]
Division: Morayta A
School: Far Eastern University
Full Names, Year, Course:
1. Tami Buchanannini, 4th Year, BS IT
2. Bobbie Malonie, 4th Year, BS IT
3. Brandi Babidee, 4th Year, BS IT
4. Marianne Busyan, 4th Year, BS IT
5. Lulu Baktuyu, 4th Year, BS IT
6. Izzi Krissy, 4th Year, BS IT (optional)